Testimonials
Need some evidence that FlashMob! is the right band for your event? Get comfortable, because you're going to be here a while.
You guys made the night memorable not only for us but for everybody there. We still have people say it was the most fun they have had at a wedding, no doubt FlashMob's music/personalities had a GIANT part in that… If you are on this page trying to decide if they are the band for your wedding, STOP LOOKING. Call them, Book Them… Thank me later.
-Jess and Jon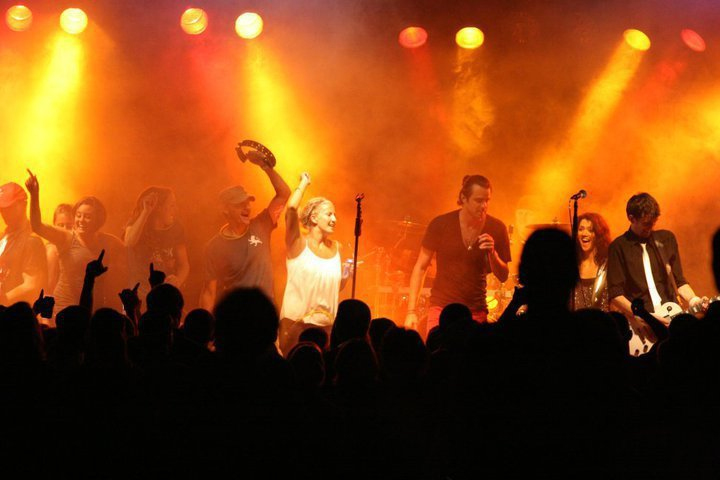 FlashMob was a hit at the first annual Rock Cancer event held in Little Chute, WI. We had six bands play throughout the day with FlashMob as our headliner. They were the only band at our event that wasn't from the area, and we were a little concerned that people would leave after the local band that played just before. People stayed and FlashMob exceeded everyone's expectations. Excellent musicians and vocalists, they are very energetic on stage and get the crowd involved. They play a great mix of music from 70′s rock to today's music that will have the crowd dancing and singing along with every song. We asked that they learn a particular song for our benefit (Train's "Calling all Angels") and they nailed it, had people in tears. I would absolutely hire them again, in fact I did, for Rock Cancer 2010.
(FM! Update: We headlined this event 3 years in a row, took a few off, and played it again in 2018. Oh, and 2019. And 2021.)
-Jim Spierings, President, Spierings Cancer Foundation
We hired FlashMob! to perform at our wedding and they were amazing the entire night. Their sound and style are ideal for weddings, and they really know how to set the perfect wedding environment. Every song sounded fantastic and their energy level is absolutely contagious! We really felt that our FlashMob! performance was special, and it definitely set our wedding apart from every other wedding. My wife and I couldn't believe that our kick-ass band was actually the easiest of all our vendors to work with — very responsive, reliable and accommodating and worth every penny. If you get a chance to book them, do it before somebody else does!
-Steph and Tim
FlashMob! performed at our wedding in Fargo, ND and they were honestly one of the biggest
highlights of our wedding day. They absolutely rocked it and our guests are still raving about
them to this day! It did not take them long to get everyone on the dance floor and get the party
started. We had "mobbers" from ages 2 – 72 out there having a great time! The songs they
performed were perfect for our varied guests and they even played songs we requested
(Backstreet Boys' "I Want It That Way and Lady Gaga's "Pokerface" anyone?!). They were
also awesome at interacting with the crowd between songs and made the night memorable for
everyone. Thanks FlashMob! for being the life of our party!
-Emily & Jake
FlashMob kept our event attendees engaged and on the dance floor until the very end. The band was easy and flexible to work with, and aligned with the goal of our event perfectly. Having them back next year is already proving to be a major selling point for attendees!
-Jessica Maldonado, Event Organizer
You guys were so wonderful.  Highlight of the reception was dancing to you guys. We got so many compliments on how great you guys were.
-Jennifer and Ryan
We recently hired Flashmob! for a client who was throwing their company holiday party. Flashmob! was the perfect combination of skilled musicians, high energy and fun. As a planner, I appreciated the band's responsive time in the planning stages  and their adaptability the night of the party to meet the needs of the client. I would highly recommend hiring Flashmob! for a reliable band who also keeps the party going all night!
-Kara Souther, Senior Event Manager, Do Good Events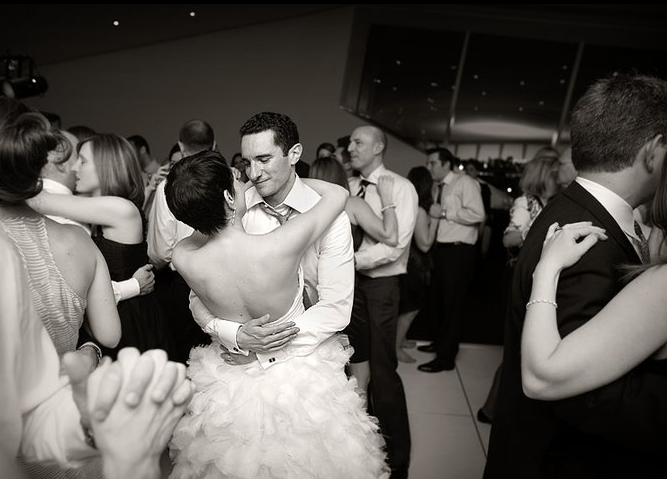 We live in New York City so we anticipated a challenge planning for a Minneapolis wedding. Our search for a band was focused on "non-traditional" wedding bands: bands you'd typically find in a bar that can really rock. We quickly found Flashmob online and from the beginning were impressed by band's responsiveness and willingness to work with us planning the event. Early in the process we spent about 30 minutes on the phone with the band explaining what we were looking for and what types of music we wanted them to play.
Over the following months we worked closely with the band to create a custom play list: the band even learned a few songs for the party and also learned two acoustic songs for the ceremony. While creating the song list the band was extremely helpful in providing feedback as to what songs they thought would work best. They also suggested adding a few new songs along the way.
At the wedding the band worked hard to get everybody involved and they totally succeeded: from the first song through the last song, our guests danced nonstop and everybody was asking "who is this band!?" Overall we could not be happier with Flashmob and how they rocked our wedding!
Thanks,
-Annie and Bryan
We had FlashMob! play at our wedding, and they helped make our night one of the best nights of our lives!  They kept our guests on the dance floor the entire night.  They played a wide range of music where there was something for everyone.  They interacted with the guests on the dance floor and were very personable.  We had many of our guests comment on what a great night they had and how much they enjoyed the band.  We would recommend them to anyone looking to have a good live band at a wedding.  We will continue to go to their live shows around the cities.  Thank you FlashMob!
-John and Sara
Having FlashMob! play at our wedding was better than we could have ever expected!  You know a band is great when the dance floor is ALWAYS full and that is exactly what happened! From the first song to the last, they were full of energy and you could tell that they were genuinely happy to be there, playing for us. They really know how to make you and your guest feel special by including you into their performance. Our guests are still talking about how much fun they had and how great the band was. They are very easy going and very accommodating which made them a pleasure to work with. I recommend FlashMob! to anyone and everyone looking for a high energy, personalized performance.
Thank you for helping making our special day truly memorable and better than we imagined!
-Aaron and Sara
Flashmob was excellent on the 28th!! I have not heard anything but great reviews 🙂 We absolutely loved having them be a part of our event.
-Amanda Reiter, Assistant Events Manager
Big shout-out to FlashMob! for putting on a killer show once again! We received so many compliments on the band and loved seeing so many people on the dance floor! I'm pretty sure I only left it once or twice for a refill. Can we just relive this night over and over again?!
-Ariel & Sam
Thank you for making my job so much more than tolerable tonight. You guys are really kick ass.
-Megan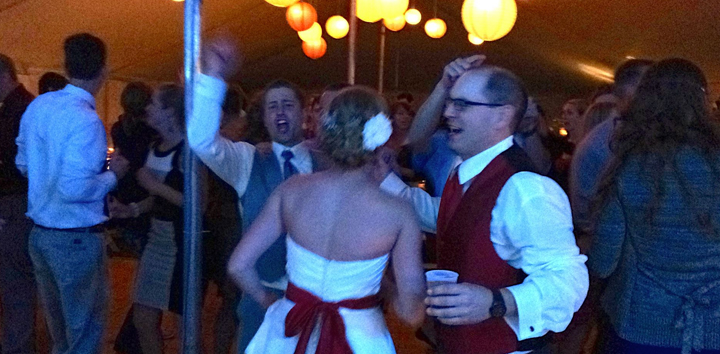 FlashMob! absolutely rocked our wedding!  Not only are they amazing musicians, they are fantastic to work with and really know how to get people on the dance floor… and make them stay there!  Even though we battled rainy weather on our wedding day, our guests soon forgot about that once FlashMob! started to play.  We had so many compliments about the band we have to tell everyone who's reading this testimonial that they shouldn't look any further for a band – book them now!  It will be the best decision you'll make as you're planning your wedding or special event.
Thank you FlashMob! for making our wedding EPIC!
-Mandy & Chris
FlashMob! is a fantastic band to have for your wedding day, and I highly recommend them! They are fun, laid back, and super easy to work with. They had the dance floor rocking out until the very last song, which I love to see!
-Lizie Anne, wedding planner
We chose FlashMob! for our wedding after a fairly extensive search.  Our criteria included: a good and diverse song list, the ability to play during the ceremony as well as the reception, and quality of performance (we went to many shows).  In addition to this, these guys were incredibly easy to work with.
Not only did they keep everyone dancing from the first song to the last but they were able to learn our song for the first dance, we also received very good feedback on the guitars played during the ceremony.  Everyone had so much fun and the band was very engaged with the crowd.  I would recommend them for weddings and any other party that requires a high energy, well executed band performance.
Great job guys!  THANK YOU!!!!
-Dave and Josie
My wife & I hired the lead singer and lead guitarist of FlashMob! to play a very special song for us at our wedding ceremony – Today – by Joshua Radin. We had an embarrassingly large Catholic wedding, and as usual, FlashMob! knocked it out of the park with an amazingly touching and beautifully played rendition of the song in front of 300+ guests. FlashMob! was professional, flexible and very fun to work with in the chaos of the wedding planning and day. As for performance quality at live shows, we've seen FlashMob! play quite a bit and can say they are talented, versatile, fun and engaging! Playing a diverse mix of current favorites and rock and pop classics, they are a blast to see live. They perform with purpose – with the goal to get everyone out on the dance floor and tear it up. We could not give a stronger endorsement of FlashMob! Feel free to contact me if you have any questions. Good luck and enjoy the wedding ride!
Best regards,
-Sean & Anne
Awesome show again. So much fun!
FM! update: We've played this seriously fun corporate event two years running.
-Ann, event coordinator
We are so happy we picked FlashMob! for our company holiday party. Great music, talented musicians, high-energy, and fun to watch. So many of our coworkers commented on how great you all were. You kept people dancing! Thanks for an excellent night!
-Carolyn
The easiest decision while planning our wedding was booking FM! to play at our reception. They play the most perfect songs that makes everyone want to get up and dance! Not only are they a very talented group, but they are some of the nicest, and most energetic people we have ever met. You will definitely want to book them as soon as you can, as they are super popular!! They are worth every dime!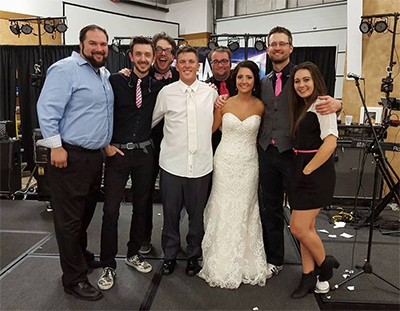 -Ashley and Cody
FlashMob! performed at our annual Jeffers Outlaw Days celebration on July 11. Awesome people & excellent music. Thank you!!
FM! update: We headlined this event three years in a row. 🙂
-Mindy Carter, event organizer
Is it a testimonial that Vita.mn listed us as a top 10 band in their past "Best Cover Bands", "Sexiest Bands", and "Must See Local Bands" lists? We think so.
-Vita.MN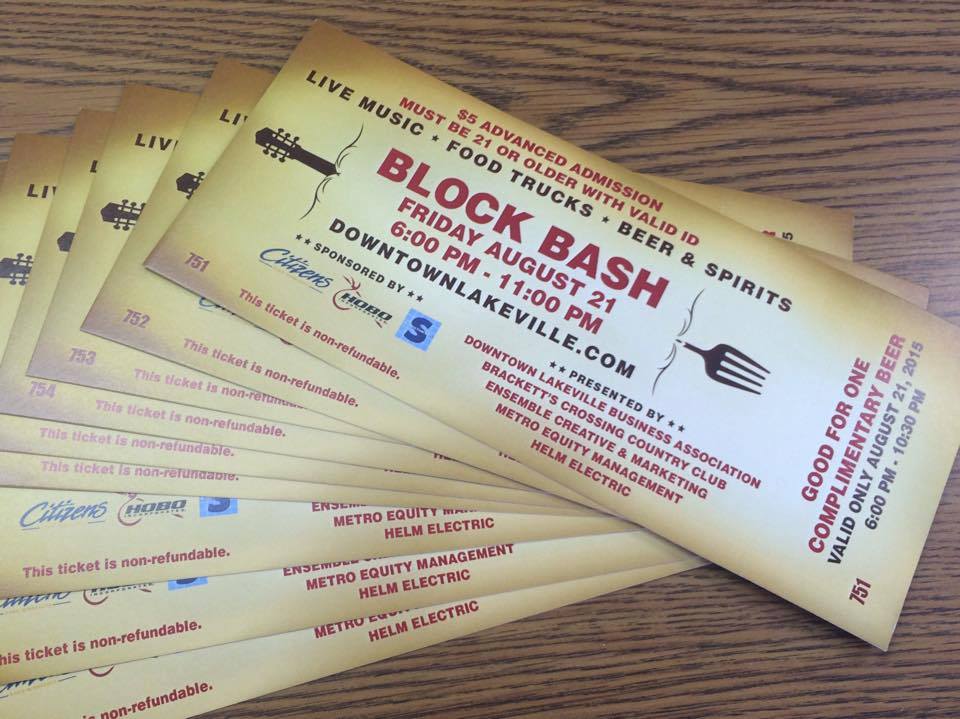 You guys were fabulous on Friday night!  We heard nothing but positive comments about your performance.  Thanks for working with Erin and Madison, for keeping a fun but professional appearance, and for making it a fabulous night in Downtown Lakeville!  We will definitely be considering using you again.
-Downtown Lakeville Business Assn.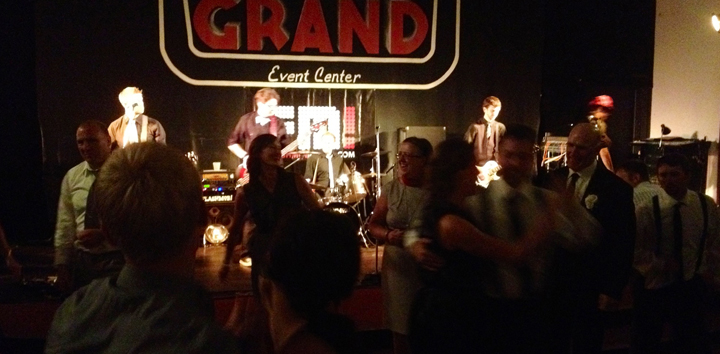 We selected FlashMob! to play at our wedding after a friend recommended we check out them out. After hearing them play, we knew they were exactly what we were looking for! Knowing they were the experts, we gave very limited input regarding the song selections and they definitely delivered one amazing, high energy, rock'n'roll performance on our wedding day. Months later, our guests are still raving about them! Selecting FlashMob! was the best decision we've ever made (well, second to saying 'I Do')!!!!
-Michael and Alicia
Seriously the coolest band we've seen at a wedding.
-Studio 306 Photography
If you're looking for a band to hire for an event, look no further! Flashmob did an amazing job keeping our guests dancing throughout the night. They have amazing energy and unbelievable talent.
Thank you again!!
-Michelle and Troy
"Everything with our 4th of July celebration went pretty well! There was about 13 thousand people there total at the event and FlashMob! did great. We will definitely keep you in mind for next year's event!"
FM! Update: We played this great event again in 2018.
-City of Woodbury
You are the best! Thank you so much for performing at our daughters wedding last Friday at the Fine Line. You made Matt and Erin so happy and made some wonderful memories for them. So many of our guests asked about you. Everyone loved you. Thank you again so very much. We love the photo booth pic. Good Luck to you all!
-Ernest and Cathy (parents of the bride)
We selected some of the guys from FlashMob to play during the ceremony at our destination wedding in Florida after seeing them play several different shows in Minneapolis. FlashMob! was clearly the best choice going in, and we were blown away by their performance. The FM guys contributed a great, unplugged vibe to our ceremony. We spoke with the band members several times during the planning of our wedding. Their energy and excitement around the ceremony was appreciated. They were entirely responsive and willing to make my day and the ceremony perfect. They even learned a couple new songs for me.  As further testimony, my wedding consultant who didn't even attend the wedding heard about their performance and wanted to know if she could work with the band in booking more weddings.
-Ashley and Brad
We originally chose FlashMob! to play at our wedding reception after hearing them play several different shows around the Twin Cities which were always a great time! Needless to say, their energy, excitement, talent and stunning good looks (MaK) made our wedding reception the best wedding we have ever been to! There were people on the dance floor all night, even my own father who does not stay up past 9:00pm and he was out until 2:00 am! Those who chose not to dance enjoyed watching the band play as they bring along a great performance and crowd interaction. We witnessed so many smiles, laughs and killer dance moves all night long! When people think back to our wedding reception they will definitely remember the fun they had — thanks to FlashMob!
I could go on forever but to sum things up – thank you, thank you, thank you! Thank you for a successful, entertaining, and memorable evening. You guys rock and totally brought the party not only did we have fun but so did our guests. This will be a night we will remember for a lifetime!
-Jolene and Nathan
Last night rocked. You guys helped make our day way better than "DJ slip slurp" ever could have… Thank you so much.
-Jon
You guys totally brought the heat!!!! Everyone (including the bride & groom) had a great time.
-Parents of the Bride
I wanted to send a quick email to thank you and the rest of the band (and sound people) for your work at our wedding. We had a really excellent time, and the band was a huge part of that. We couldn't tell that you guys had just executed your fastest set-up ever, and we heard so many comments the next day about how great you guys were. … We couldn't have asked for a better dance party!
-Julia + Jason
You guys rocked in Boji. We were the bachelorette party Fri nite that came up on stage…the best band I've seen in yrs! We came back sat nite…. Awesome again!!! Will definitely be checking out where u guys play an might have to road trip!!! I can absolutely say the 5 of are now groupies.
-Michelle