The Craigslist ad read as follows:
1972 Dodge Executive RV for sale or trade. NOT a meth lab.
The RV (Recreational Vehicle) is in nice shape overall, considering the miles are high (about 520k) and it's been overrun by a family of raccoons (I'm assuming they're a family. For all I know they're simply friends or coworkers, considering their penchant for gathering food together).
My parents left me the RV in their Will while my sister Judith got the antique hutch and the collection of knock-off Hummel figurines.  The vehicle, while beloved by me, has become too much to maintain and I'd rather have a smaller car or scooter to get back-and-forth to bartending school.
The "goods":
1972 Dodge Executive RV
520,421 miles (mostly freeway and city road driving. Some off-road miles.)
AM/FM radio w/ detachable faceplate to deter theft
Short wave radio (you'll be able to hear Russia from your front porch)
Police scanner
Working gun rack
Working RPM gauge (MPH, gas, and engine temp gauges are non-working)
Spare tire holder (holds one spare tire)
Roof ladder
A/C and heater knobs (both non-functioning)
Bathroom (sink, toilet and shower have been removed)
Stove with matching microwave (Microwave doesn't have a door, so stand away from it if you're going to make popcorn)
Military-grade metal shelving
Family of raccoons (They leave in the mornings to forage, so if you don't want them, I'd take the RV in the AM)
Rusted, large-quantity drums (meant for transporting various liquids)
You've gotta see this puppy to REALLY appreciate it. It's worth it's weight in memories for me and my family. However, I do believe in some transparency and want to be upfront with you …
During the early 90s, my brother, Chip, used the RV as a delivery vehicle for his company No Questions Asked Delivery Services and he retrofitted the vehicle to be more suitable for delivery as opposed to being simply left for "cruising the open roads in search of the REAL America," as my Papa Jim would say as he was drinking Schlitz and operating the RV.
Most of Chip's deliveries were of the benign sort: transporting flowers to weddings and delivering meals to the less fortunate. That kind of thing. Eventually my brother started to take on better paying jobs delivering medical waste. Unfortunately, Chip wasn't really set up for this sort of delivery and the RV was the recipient of some nasty spills. Partner that with the raccoon smell and the RV is currently pretty ripe. I usually drive with the windows down and wear a gas mask that my brother had purchased after spilling a drum of urine in the kitchen area.
Again, the RV drives pretty well. The tires are bald and the brakes don't work ALL that well, so I'd suggest repairing those.
Anyway, I'm asking $1500 for the RV, but would take a trade if you have a small car and/or scooter. She's all yours if we can make a deal, but the memories are mine. Raccoons are negotiable. <Kidding>
Location: Coon Rapids, MN
it's OK to contact this poster with services or other commercial interests
————–
A BAND "VAN" – "If this van's a rocking, come a knocking as we're probably in serious trouble."
Our band, FlashMob!, has been struggling with how to get to and from our shows without leaving too much of a carbon footprint. With all the gear, clothing, and other necessities we need to bring to a show, we are forced to drive six cars for six band members to each show. Pulling into a gig is reminiscent of the group of guys in Swingers heading off to a party in the 'Hills." Funny, but wasteful.
We've been contemplating the purchase of a van or RV for awhile and after making some sweet coin last summer playing weddings and writing commercial jingles for some local businesses — "Off to heaven … with my brethren … oh thank heavens for Wosznowskis Funeral Home" — we were finally ready. Plus, Josh and Jeff often regale us with stories of dry humping and beer bonging Summit Ave. band van. Hard to argue with all of that.
"We're in!"
Having saved $2000 to go towards a new band ride, Joe and I set out to find the PERFECT vehicle for FlashMob!. We bandied about the idea of simply buying a hitch for Jeff's wife's SUV and then buying a trailer, but that idea was shot down pretty quickly. Apparently the idea of a trailer hitch on his vehicle caused Jeff to balk as he "didn't want to ruin the aesthetics of the rear bumper and license plate holder." Ok.
As huge fans of the oft-quoted National Lampoon's Christmas Vacation film, specifically the "Shitter's full" line spoken by Randy Quaid's "Uncle Eddy" character, we ultimately gravitated towards the idea of an RV. Also, having rented an RV for an upper Michigan tour when we (Joe, Collin) were in The Subsidies and enjoying the fruits associate with said form of transportation, Joe and I were more than willing to set out and shop for an RV. Much better to poop while moving than stopping every 20 miles, you know? Right, Laura?
Knowing our budget was relatively low, we knew we were most likely in for a fixer-upper, lessin' we wanted to pay for a new vehicle by wrapping it in one of those advertisement wraps you see on VW Beetles or Chrysler PT Cruisers; the thought of riding around with Jimmy John's sandwiches plastered all over our ride wasn't doing it for us. Plus, Josh's wife, Lindsay, mentioned that Josh had a killer set of tools and the know-how to fix anything. "He once fixed our dog gate leading to the basement," she liked to brag.
After scouring the Internet, as well as some local newspapers, we found an RV that appeared to be: A. affordable: B. big enough; C. driveable. The RV – an "Executive" made by Dodge – was in our budget and still worked. Aside from a gaze of raccoons that had found solace in the RV and general damage – expected from a 1972 RV for gosh sakes! – we were VERY interested. A test drive was in order!
The Smell
As laid out in the Craigslist ad, the RV was smelly. We knew that. Having lived in enough college houses back in Eau Claire, both Joe and I were ready for anything. Hell, I once had to clean our party house's basement bathroom after a bunch of unfortunate party-goers had vomit + diarrhea attacks due to our saving money by purchasing expired kegs of Ice House beer. It was my "stormed the beaches of Normandy" moment, to be sure.
Also, as a father of two boys, I wasn't too concerned about potential smells.
"Oh lord …"
One doesn't come across a smell like that often. I imagine when detectives first stumbled upon serial killer Jeffrey Dahmer's abode, there was a bit of an odor, sure, but this RV was like a noxious mix of old Diaper Genies stuffed with diapers, rotting bodies and a Sasquatch fart. My nose still runs and my eyes water at the very thought of this horror. Joe, upon setting foot in the vehicle, blacked out and had an awful nose bleed.
Apparently the owner's brother, which was explained in the ad, ran a successful delivery service that delivered medical waste in the metro area. Unfortunately, he had a few accidents, specifically with urine and blood. Pair that with the smell of 30 raccoons and boy oh boy!
The fact remained that Joe and I were on our 20th viewing of potential band vehicles; we had seen it all. This RV ran, was big enough, and – smell aside – had the potential to be pretty kick ass. I'm picturing "FlashMob!" and our faces plastered all over this puppy!
Brandishing the masks we were told by the owner to bring, we gaged our way through a test drive and you know what? The dang thing actually drove quite well. Now, I couldn't tell you how fast we were going, as the gauges don't work, but we were haulin' ass, let me tell you. Frankly, the faster I drove, the more air I could breathe in through the open window which helped (kind of) to overcome some of the fecal smell left over by one of the raccoons who had earlier defecated on the passenger seat as some sort of territorial marking.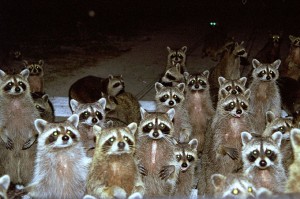 After the test drive, we headed back to the owner's house for a hose shower at the hands of the RV's owner and some general dry heaving, Joe and I made the decision to burn our clothes and buy the RV. Having nothing to trade, we agreed on a price of $1100, which will leave us $900 for refurbishment and to pay some University of Minnesota smell lab to help us remove the odor. We signed the title, shooed out the stubborn family of raccoons, and drove away in our "new" band RV!
I drove as Joe was still sick from the test drive.
Gotta admit, the excitement is palpable. It's at times like this that I like to quote Morgan Freeman's "Red" character from Shawshank Redemption:
"I find I'm so excited that I can barely sit still or hold a thought in my head. I think it's the excitement only a free man can feel. A free man at a start of a long journey whose conclusion is uncertain. I hope I can make it across the border. I hope to see my friend and shake his hand. I hope the pacific is as blue as it has been in my dreams. I hope. "
The RV now sits in an open field near Joe's mom's house, where he and his family live while they search for suitable housing after abandoning their St. Paul home. I half-jokingly said that they should move into the RV. A joke not taken all that well from Janna, Joe's wife, who refuses to step foot into the RV for some reason. She must get motion sickness or something.
So, here we are!
Josh has already drawn up a set of rough blue prints for the RV's overhaul and Plete, a skilled Project Manager, has a construction schedule drafted which'll see completion of the RV just in time for the spring. I can't PROMISE that we'll have a killer soundsystem, buuuut ….. you never know 😉
Stay tuned to this blog for updates on the RV's metamorphosis from "stink bomb" to "Shaggin' Wagon."
THE EXECUTIVE – Home of FlashMob! and Awesome